For nearly 6o years, Omaha Interior Designers have hung their hats at Interiors Joan and Associates. Our team of designers is world-class and highly trained, but more importantly, their love and listening ear for their clients is what makes them the best in the business.
If you're in the local Omaha-Metro area or elsewhere, and are in need of an Omaha interior designer, you're in luck! Interiors Joan and Associates is home to a number of talented professionals who can help you transform your home into a stylish and functional space.
We are a full-service interior design firm with showrooms in Omaha and Lincoln, Nebraska.
Our clients receive personal and professional services to assist them with the interior design needs of their new and remodeled homes and businesses. Interiors Joan and Associates designers are specially trained to interpret clients' individual styles and identify their specific needs in order to offer customized design solutions.
An interior designer is a trained professional who helps clients create cohesive and aesthetically pleasing interior spaces. They work with clients to understand their needs and preferences and use their design skills and knowledge of materials and products to create a space that meets those needs. They may work on a variety of projects, including residential, commercial, and institutional spaces.
When working with an interior designer, it's important to establish a clear budget and timeline.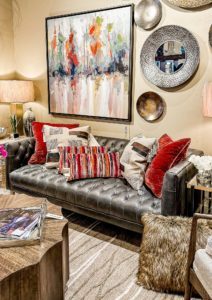 Interior designers often work with a variety of budgets, so it's important to be upfront about your financial constraints. You should also be clear about your timeline, as some projects may take longer than others to complete.
It's also a good idea to have a clear picture of your design style before working with an interior designer. Do you prefer a modern, minimalist look? Or are you drawn to more traditional, classic styles? Knowing your preferences will help your designer create a space that truly reflects your personal taste and style.
In Omaha, there are many interior design firms and independent designers to choose from, but we are confident that our talented team of designers will truly delight you with their experience and brilliant eye. It's important to do your research and find a designer that fits your needs and budget, which can be accomplished at Interiors Joan and Associates.
Once you've narrowed down your options, it's a good idea to schedule a consultation with a few different designers. This will give you the opportunity to meet them in person and discuss your project in more detail. It's also a good idea to ask to see examples of their past work, as this will give you a sense of their design style and capabilities.
Working with an interior designer can be a rewarding and enjoyable experience.
Our ASID design team is experienced in interpreting individual tastes and identifying specific needs in order to provide our clients with personalized, functional designs and furnishings. Our showrooms also offer unique, decorative items for sale and we specialize in custom-ordered furniture, window treatments, artwork, and accessory items that set your space apart from all others.
With the help of a professional, you can create a beautiful and functional space that truly reflects your personal style and meets your needs. If you're in Omaha and in need of an interior designer, don't hesitate to reach out to one of the talented professionals on our team here at Interiors Joan and Associates.