Have you ever set foot in a place that felt "off?" Maybe the hallway was too narrow, the couch too near the TV, or the carpet downright ugly.
The way we experience a space is crucial to our mood and understanding. Some rooms inspire confidence, while others might make you feel uncomfortable. How can you avoid potential pitfalls if you're unfamiliar with design rules?
Luckily, interior designers are here to help! These trained professionals will help you achieve your dreams for any space.
Learn all about the field of interior design and the benefits of the best interior design in Omaha.
What Is Interior Design?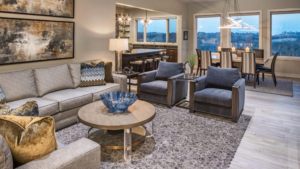 Interior design is the study of interior spaces and aesthetic design. Examples of interior spaces might include a meeting room, kitchen, public library, or hospital. Interior design addresses the functionality of a space while appealing to beauty and emotion.
Since the dawn of humankind, people have filled their homes and places of worship with beautiful designs. We've painted art on our walls for centuries and fashioned furniture out of wood, furs, and shells. Eventually, elaborate castles and temples were erected to signify royalty and glorify deities.
As a profession, interior design emerged around the early 20th century. Before then, homes and businesses were designed and decorated mostly out of necessity. Only the elites were concerned with interior beauty, mostly to show their wealth.
Today, there are over 87,000 professional interior designers in the United States.
What Does an Interior Designer Do?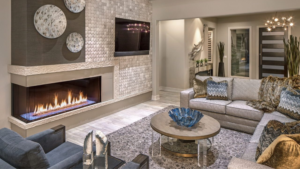 Interior designers are professionals who visualize and design the interior rooms of a building. They may work in residential homes, company buildings, hospitals, and more. Together with the business or building owners, an interior designer may help select:
Paint colors 
Flooring
Wallpapers and murals
Furniture and layouts
Light fixtures 
Built-in walls, shelving, and windows
Window coverings, rugs, and other details
Designers must incorporate the needs of the space with the owner's vision and ideals. For example, a meeting room needs to have functional seating where everyone can see each other. The right colors and design themes can help people feel more inspired, energetic, and cooperative during discussions.
Interior Designer Training
Successful interior design makes a space feel comfortable, practical, and unique. To master this technical craft, interior designers must receive specific education.
Most interior designers need to attend an undergraduate program at an accredited university to learn the necessary skills. There they will gain knowledge of many aspects of interior design, including:
Color theory 
Spatial planning
Graphic design
Lighting design
Budgeting and business expenses
Textiles and building materials
Design rendering software
Building safety requirements
Professional interior designers typically obtain a bachelor's degree. Some may pursue a master's degree in their field, but this is uncommon.
After obtaining a degree, interior designers may work for a design firm or as private business owners. They are expected to stay up-to-date on modern design trends and any changes in safety regulations.
Interior Designer vs. Interior Decorator
At this point, you may still be wondering how an interior designer differs from an interior decorator or architect. In truth, these careers are somewhat similar, but each focuses on a specific aspect of functional spaces.
Some people may use the terms "interior designer" and "interior decorator" interchangeably. For many professionals, the distinction isn't incredibly important. However, there are differences between the two.
Interior decorating focuses mainly on interchangeable elements in a space. These include furniture, paint, fabric, and decorative items.
Interior decorators may have a degree in interior design, but this is not a common expectation. Most interior decorators gain knowledge as they grow and improve in their practice.
Interior Designer vs. Architect
Like interior decorators, interior designers maintain a working knowledge of design elements, but they have added expertise and training. Interior designers are more equipped for in-depth renovations and remodeling. An interior designer plays an important role in new construction as well.
Interior designers work with architects to create functional spaces. Architects have more responsibility to create structurally sound buildings. Architects can also focus on the exterior of a building and its overall functionality and aesthetic.
In short, an interior designer's duties are not as technical as an architect's but more advanced than an interior decorator's.
The Cost of Interior Design
Most interior designers charge by the hour or by the project. The overall cost to you will depend on your project's size and scope and your interior designer's involvement.
Hourly rates can fluctuate between $50 and $500, depending on your design firm and the services needed. Some may provide a cost estimate at the start of your project or calculate a percentage of the total project cost. A typical rate will fall between $200 and $2,000 but could be as high as $12,000.
Great interior designers are respectful of their client's budgetary restrictions. Your designer may present several price options and help you determine which materials and features are worth the splurge.
The expense of an interior designer can seem hefty, but it's well worth it in the end. You can bring any space to life in exchange for a little extra money, and you'll enjoy your new interior for years to come!
Interior Design in Omaha
If you're looking for expert interior design in Omaha, look no further than Interiors by Joan and Associates. We've been helping people make the most of their interior spaces for over 50 years!
Interiors by Joan and Associates has two showroom locations in Lincoln and Omaha, Nebraska. Visit our gorgeous showrooms or contact us today to get started creating the space of your dreams!