These four must-have home accessories will help you stay on trend. Whether you are wrapping up a new build and buying fresh pieces to outfit your new digs, or are in the process of a remodel and want to start from scratch in the decor department, there are four must-have home accessories we here at Interiors Joan and Associates insist you need to include in your new space! Of course, furniture, paint colors, wallpaper, and finishes are considered a given when you're building or renovating, but it's the sweet details of interior design that truly make your house a home.
Rugs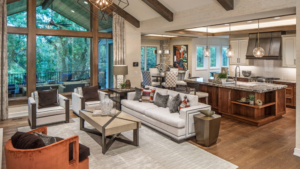 Rugs make a tremendous impact and truly pull a room together. A rug is quite literally an anchor and centers not only the furniture but really creates a cohesive space. If your home is finished with hardwood floors, a rug softens up the space and adds a cozy element. Even if your house is carpeted, a patterned rug can modernize and transform a room. Rugs allow you to easily and affordably transform a room and give it a completely different look by simply swapping one out for another. When choosing a rug, the options are endless! There's a variety of patterns, prints, fabrics, textures, shapes, and sizes.
Lighting
Nothing beats bountiful natural light pouring into your house, but depending on the time of day and the direction your house faces, sometimes utilizing nature's shine is not conducive. And that is when indoor lighting becomes critical. Having the right ceiling lights, kitchen cabinet down lights, uplighting from crown molding, and side table and floor lamps sets the mood and highlights each room's aesthetic. You can also create ambiance by choosing light bulbs. Some may prefer warm amber bulbs while others lean towards cool white light instead.
Wall Art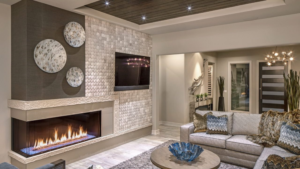 You don't have to be an art curator to effortlessly fill your bare walls with pretty pieces that complement your furniture and reflect your personality and taste. We've heard time and time again that our clients struggle and feel overwhelmed when it comes to choosing wall decor, and our number one piece of advice is to not overthink it and let it speak to you. And if that still doesn't work, then that's when you should call us! If you are dipping your toe in the world of wall art, opt for simple yet striking pieces that make a statement without screaming "look at me". For neutral spaces, a slight pop of color can bring your space to life, and if you have a room that is full of color, prints, and textures, then we suggest opting for a clean and crisp white or light-colored artwork.
House Plants and Greenery
Indoor greenery, whether it be alive or faux, immediately softens and warms up your home. The word Verdant comes to mind, as we want to enrich your indoor environment and provide lush and appealing spaces throughout each room. Fig trees add height and dimension to a corner, and snake plants offer a deep rich green and their natural leaf pattern provides an interesting detail. For those of you who are new to the plant world, we recommend starting with a Rubber Plant, as they are extremely hearty (trust us haha), require little attention, and add green, light pink, and yellow hues to the room.