As we kick off the month of August and soak up the rest of summer, our thoughts can't help but drift to cooler temps and fall foliage, which can only mean one thing here for us in Nebraska…. Husker Football!
Bust out the veggie trays, wings, cheese tray, savory dips, and maybe an adult beverage or two as we gear up for kick-off and the first day of football season. But the hostess with the 'mostess' doesn't just stop at food and refreshments for your favorite fans. When we think of hosting, we don't plan or prepare for a last-minute shin-dig. We believe that any reason to party, whether it be a Husker win or a disappointing loss, is as great a reason as any to go all out and throw a tailgate soiree!
So we've rounded up five hostess essentials for Husker game day you will need to make sure your next sports gathering is a winner… pun intended!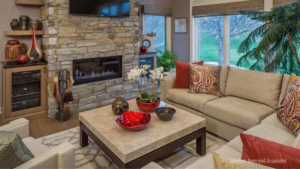 #1 Decor
We're not talking about cheesy (just the Rotel dip is allowed) logo pictures or paraphernalia either. With a team like the Cornhuskers that have a long-standing tradition of class and excellence, your game-day decor should be no different. Opt for vintage items that are an ode to our great state and team. With muted colors and tones, these pieces are likely to blend better with your home and won't seem out of place or tacky. And if the nostalgic vibe isn't your flavor, we suggest subtle soft Nebraska pride items or team colors like decorative pillows, knitted throw blankets, vases, candles, placemats, or linens.
Stop into our showroom and see what our home decor inventory can add to your home for all your Husker game-day hosting needs!
#2 Halftime
Whether the Huskers are up or down at halftime, you want to make sure your fans don't lose interest in the game or your fabulous party. Put the notorious "tunnel walk" song on the Bluetooth speakers and rally the troops in a rousing game of Husker trivia. Offer little prizes to the winners like a Husker koozie or bottle opener. These small gestures will always evoke a smile when using something functional and memorable!
#3 Fan Fare
It goes without saying but providing a delicious array of football food will always be a must-have when hosting any kind of gathering! To stay in theme with your game day celebration, opt for easy and simple finger foods such as pinwheels, a homemade salsa, a bountiful tray of fresh vegetables, a fruit platter, and of course a savory side of chicken wings or ribs!
#4 Fun Drink
Many of the Husker game start times land at 11 am, which is the perfect opportunity to set up a custom bloody mary bar! You can really have a lot of fun with all the fancy fixings, such as bacon, shrimp cocktail, pickles, fancy olives of all sorts, and a variety of sauces and flavors to add for extra spice. This allows people to create their own drink to their perfect liking and gives you the host some reprieve from playing bartender all game long!
#5 Post Win or Loss
Depending on whether the Huskers take home the W or walk away with a loss, some of your guests may prefer to head home and mourn in silence or head to their next destination to celebrate a big victory. But some may want to enjoy themselves and have a little post-game relaxation time. Have a tasty pot of coffee brewed and ready to go for anyone who may need a little help catching their second wind and have yard games set up for those who want to keep the good times rolling!
We hope these tips help you plan and be the best Husker hostess at your next game day gathering! #GoBigRed
Searching for an Interior Designer in Omaha or Lincoln?
This guide will help you better understand the Top 8 benefits of hiring an Interior Designer in Omaha.Projections show that the global interior design services market will reach a value of $255.4 billion by 2027.

If you've just bought a new home, or you think your current one needs a fresh look, the interior design options are essentially endless. Having a lot of freedom sometimes makes things harder, and you might not even know where to get started. With the help of a professional interior designer, you'll have no trouble creating your dream home.

Click here to learn about the 8 major benefits of hiring an interior designer in Omaha or Lincoln!