Meet the Staff: Karie Boggs | May 27, 2015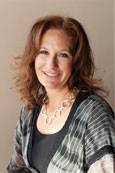 Karie Boggs has been with Interiors Joan and Associates since 1996, and works on both residential and commercial accounts. She has also been actively involved with the Omaha ASID Designer Showhouse, Street of Dreams, and Lincoln Symphony Showhouse events! We sat down with Karie to ask her the same questions we always ask!
What's your favorite design detail?
I love artwork, it's one of the strongest pieces that can set a tone for a room. It's so personal and says a lot about your style and what you love, whether it's color or an image that draws you to it.
What did you dress up as last Halloween?
For the last 9 years I've been sitting in a football stadium on Halloween watching one of my boys play, so I guess I would say my costume would be a Bergan Football Mom!
What's the last meal you cooked?
Seafood Boil..It's easy and great for gatherings of family and friends. Everyone loves to eat with their hands!
Who's the last person you said "I love you" to?
Everyone of my four boys.