Featured Grouping: Sectional! | June 5, 2015
If you've visited our showroom, you've probably noticed that we place furniture and accessories into groups. These "groupings," as we call them, showcase how to display and use a myriad of different items in your own home! Below is one of our newest groupings, featuring bright art and great furniture in a unique way!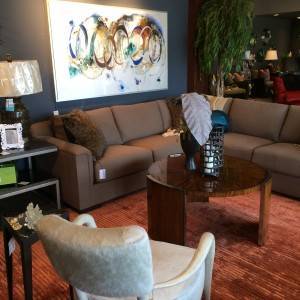 This grouping features a sectional with a clean, contemporary frame and neutral, textural upholstery. A round cocktail table in a glossy finish adds a dash of pizazz to the setting. A terra cotta colored rug anchors the grouping while providing a plush texture underfoot and a gorgeous splash of color. The artwork above the sofa is exquisite… a modern abstract of swirling color, it captures the eye and invites you to view the whole space, tying all of the colors together. In the foreground, an accent chair composed of a faux horn frame, and upholstered with hair on hide is a fun and functional conversation piece.