One of our specialties is custom furniture. We work directly with hundreds of manufacturers to design and produce furnishings that are perfectly suited for our clients' spaces and lifestyles. Our showroom is one of the largest in our region and we have pieces from a variety of the companies that we work with so that clients can experience first-hand the scale, quality, comfort, finish, etc. that a line offers before ordering their own pieces. We also sell pieces directly off of the showroom floor. So where do these furnishings come from?
Twice per year, we send a team of interior designers to High Point, North Carolina, the furniture capital of the world! The High Point Market Authority is the official sponsor and organizer of the High Point Market. The Market features an extensive selection of exhibitors spanning every category, style, and price point, and is the driving force of the home furnishings industry. There are 180 buildings, 11.5 million square feet of show space and more than 2,000 exhibitors.
Our team has appointments with the companies that we carry and they research new lines that may be a good fit for our clients. They search for special items that any of our designers may need for a particular project. They sit in every piece of furniture possible and take notes on comfort, the sit, the depth, etc. They photograph new introductory pieces, take notes on the new trends, and order all of the furniture, accessories, lamps and artwork that will be featured in our inventory and available for sale in each of our showrooms.
So what did we see at the latest Market? Here's a rundown:
Furniture pieces showcased a highly tailored and detailed look. Many of the fabrics were neutral in color and were framed with texture like tufting, quilting, nailheads, cutouts and intricate architectural detailing.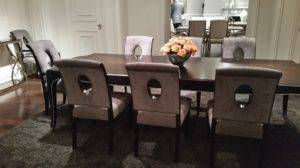 Many of the collections within the lines that we carry offered groupings that were appealing to a more casual, comfortable lifestyle. Upgrades in cushioning, textural fabrics and a trend towards more traditional styling were also popular. We saw lots of whites, grays, taupes, neutrals, resulting in a look that is very monochromatic and tailored. On the flip side, some collections were very glamorous.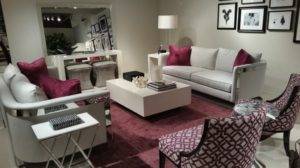 Bedding was very fitted and neutral, with pops of color being introduced with pillows. Most of the bed frames were upholstered and had tufting, nailheads and other trims.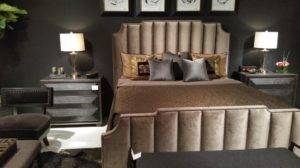 We saw lots of high contrast design- whether it be with lighter colored upholstery and furniture and dark, saturated walls, or 2 fabrics on one upholstered piece – the juxtaposition between the tones creates interest and depth in a space.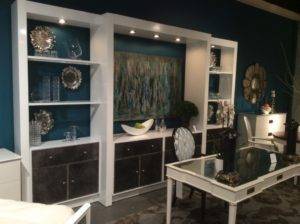 We love sharing what we see at the High Point Market with our clients! Do you have a favorite trend? Let us know!