Meet the Designer: Lisa Cooper! | March 11, 2015
Every once in a while, we get to know our designers better! Up today is Lisa Cooper,
(Allied Member, ASID). Lisa began designing with Interiors Joan and Associates in 1993. Since then, she has played a key role in planning many of the Omaha ASID Designer Showhouse and Street of Dreams projects that the firm has taken on. As an Allied Member of the American Society of Interior Designers, Lisa has also contributed to projects such as the Lincoln Symphony Showhouse. We asked her some questions so you can get to know her better!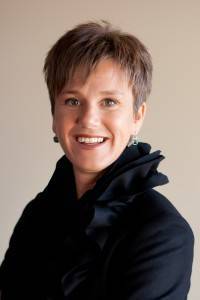 What's your favorite design detail?
I appreciate strong architectural details in a space. I love the details that go into developing the aesthetics of a fireplace surround – they create such a great mood, warmth and energy for the space in which it anchors. Then the details around can complement to make the environment cohesive & pleasing.
Do you have pets? Do you dress them?
We love our four-legged furry family members. We currently have a fun loving, sweet golden retriever who provides us with that unconditional love and energy every day. So good! But no costumes for this girl. As much as the kids try, she is ultimately not a fan of the clothing and costume industry for pets.
What's the last meal you cooked?
Grilled tilapia tacos with spinach. My son thought it looked good as well …I think he was excited to not see a frozen pizza!
What's the most exotic food you've ever tried? Did you like it?
My strongest memory of an exotic dinner experience is from my childhood, when our family was invited to a company dinner at "Mataam Fez Moroccan Restaurant" in Colorado. The atmosphere and entertainment for fun and energizing, but it could not help me overcome the quinia (rabbit) dish I was served. That is a dish that is not on my bucket list to embrace again!
What's the best advice your Mom ever gave you?
My mom is an amazing woman whom I continue to grow and learn from, and I appreciate her more with every encounter. Her most recent comment/advice was lighthearted in the sense that she stated "We are all a little bit cracked, but we are still wonderful people." Meaning that we should appreciate that we are not perfect and still find strength and good energy in one another…good stuff!