We hear time and time again from our amazing clients how excited they are about redesigning their homes. But we sometimes witness that excitement become overshadowed by a sense of overwhelming confusion, as they're just not sure how their vision will actually come to life.
Knowing how to craft and curate a cohesive aesthetic and flow for your entire house can be downright daunting. This is why when it comes to the interior design process, completing one room at a time is the method and approach we at Interiors Joan and Associates often take with our clients.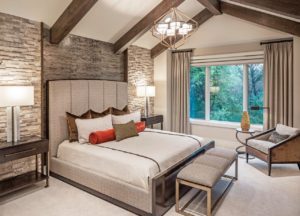 Budgetary considerations also play a major factor when redesigning your home. Our experienced designers work tirelessly to keep your budget and design vision aligned while also understanding your lifestyle, individual needs, and unique personality and taste.
Interior Design Process, One Room at a Time: which room to design first?
And this is no easy decision because when you're eager to make big changes, you want it all done. So we must carefully assess your home and the family that lives there. For instance, if you are a family with young and active children, we may want to consider starting with the family room, where the majority of family quality leisure time is spent. If this is the space we start with, we will want to make sure the design checks both fashion and function boxes.
Or if you find yourself sending your adolescent and young adults down to the basement to play and gather with friends, then we'll want to focus our efforts here to achieve an inviting and comfortable space for them, but also a space that can be quickly flipped and used for hosting parties and events catered to adults and peers.
But for those retiree households who are empty nesters, then perhaps starting the design overhaul would be best suited in the den or library which are now more often utilized with more free time and leisurely schedules.
And if you are a dinner party connoisseur, then a kitchen and formal dining room overhaul would be a brilliant starting spot.
The anchor room is pivotal to the entire redesign process, as every choice, from colors, fabrics, fixtures, and design style will be woven throughout the home.
For example, if you are undergoing a kitchen remodel, then your design process will be much more expansive, as you will be choosing not only decorative items and finishes, but as well as major installations including; flooring, tile, countertops, cabinets, carpentry work, and even moving (or removing) of walls.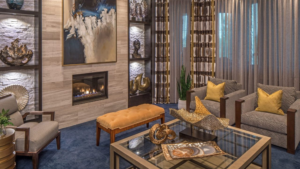 Your decorating and style vision pre-renovation may look very different during and after the demo and installation are complete. If you are transforming your home from a traditional to a modern farmhouse, most certainly your previous furnishes and decor will also need to be overhauled and updated.
While working through the various design elements of the anchor room, you'll want to also keep function at top of your mind.
Bright white walls create a crisp and clean aesthetic, however, they most likely are not conducive for little hands running up and down the halls and through your home. Our team of talented and extremely knowledgable designers knows color like Bill Nye knows science, and they will guide you through the color selection process in choosing paint for your walls and trim for the house. The days of different colored rooms are no more. Selecting a cohesive color palette of two to three hues that are used throughout the entirety of your home is highly suggested and encouraged.
Our designers at Interiors Joan and Associates are simply the very best at their craft and have made a tremendous impact on the lives and homes of thousands of clients for nearly 60 years. And they are ready to guide you through the interior design process, one room at a time.