Omaha design services, big or small, Interiors Joan & Associates does it all.
Interiors Joan & Associates has been a trusted Omaha design service and interior decorating firm for nearly 60 years, making a mark on thousands of homes and businesses. For our talented team of designers, there's no project that is too big or too small. Lavish, luxurious reveals are incredible to see and be a part of, but smaller-scaled, more intimate spaces also have a soft spot in our hearts.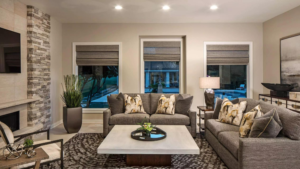 Whether you're designing a custom home, a new commercial building or renovating your beloved home, or simply revamping room to room; our Omaha designers are here to bring your vision to life.
From start to finish, your project's designer will work diligently to keep your budget at top of their mind as you collectively determine wants, needs, and objectives. We understand the investment our clients make when they hire Interiors Joan & Associates and we don't take that lightly. Working to maintain your budgetary needs while achieving your vision for lifestyle and personal taste is always our designer's top priority.
Searching for Omaha design services? Continue reading to learn how our designers will guide you every step of the way!
Each designer will expertly guide you through each and every step, regardless of project size, budget, and timeline.
Whether you are embarking on new construction, a major renovation, or simply overhauling a space that needs some attention; the goal does not change. From the initial concept to the final details, our team of professional designers uses their expertise, resources, and best practices to bring the project to fruition.
Residential & Commercial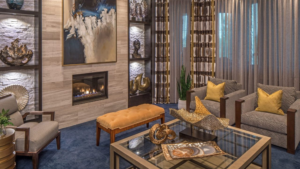 Whether you are drawing up the blueprints for your new construction or renovation, both personally and professionally; our designers work with you to create a space that is beautiful, but also highly functional. This is achieved through deep conversations to truly explore and understand your vision. Our talented designers then create a plan that is curated with your specific lifestyle. And of course, maintaining the deliverables mapped out in the budget and timeline.
Custom Furnishings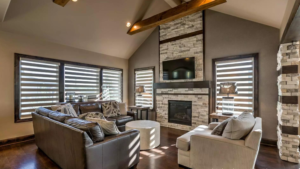 Custom means it's made with the client in mind. A piece of design that is just for you. Creating custom products to meet the unique needs of our clients is what gets us out of bed in the morning. It's a fun and exciting process for designers and clients alike. The final result will not be found in any other place.
One of the most common custom requests is for window treatments. Shades and blinds protect your furnishings from damaging sun rays. And when expertly paired with draperies, cornices, and other treatments, they provide fashion and function to the total aesthetic of that space.
Unique Artwork, Accessories, and Fabrics
Our designers are dedicated to perfecting their craft and increasing industry knowledge. Twice a year, they attend the international market to keep up with the latest design trends and to stay abreast of industry best practices. They carefully hand-select pieces for our showrooms and for our client's homes and businesses. Each of our designers is highly trained in scale, color, and texture, allowing them to select and place each item perfectly in your space.
Our brilliant team of designers invests years in memorizing every product in our fabric resource library by quality, price point, application, colorways, and wearability. This expertise is at your disposal as part of our design service.
Stop In and Shop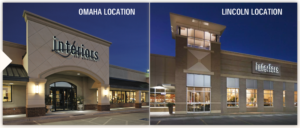 Our showroom locations in Omaha and Lincoln are open to everyone for all of your interior decorating needs. Our designers are delighted when given the opportunity to assist shoppers in choosing the perfect item or piece they are seeking. Stop in and say hi to our Interiors Joan & Associates' friendly and talented team!