Interiors Joan and Associates have been designers in Omaha NE for nearly 60 years and as we wrap up a busy 2022, we are so appreciative of our clients, past and present, who have trusted us to make their houses feel like home.
But before we dive into the new year, let's chat about decorating for the holidays! Of course, everyone has their personal preferences and tastes, but as expert designers in Omaha NE at Interiors Joan and Associates, we have a few tips and tricks to share!
Garland is Great
Garland is an easy and affordable way to spruce (pun intended) your home with winter notes. We like garland for mantles and railings, as it adds a pop of green and warmth while bringing a winter wonderland indoors. Garland is versatile, as it can be styled with lights, pine cones, and other woodsy elements. And because it's not necessarily Christmas-themed, it can stay up all winter long or until you're ready to swap your decor for Spring items.
Vintage Glamour
Outside of holiday decorating, in the design world, art deco is making a big comeback, so we're not surprised that vintage glamour is finding its way into winter and Christmas decorating. Sparkles, stones, gems, beads, and metallics make a statement among the green garland and evergreen. This is a great way to feature family heirlooms and pieces that have been passed down from generation to generation.
Bright Lights and Candle Glow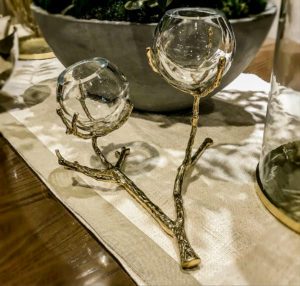 Incorporating a mix of LED lights with the warmth of candlelight is a great way to create depth and ambiance for your home during the holidays. Utilize floor and table lamps with a sprinkle of votives and a variety of vases, such as mercury glass and crystal.
Nontraditional Holiday Hues
While you may love the Christmas holiday, you may not be super keen on the traditional duo of red and green. A great way to decorate for Christmas while still remaining true to your personal style is to mix in subtle glam and soft hues, such as metallics with soft pink, powder snow blue, and a classic cardinal red.
Outdoor Wreaths and Planters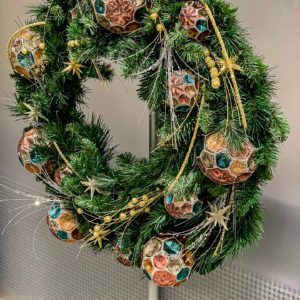 The exterior of your home deserves some holiday love, too. To accessorize the outdoors, opt for a statement-making wreath on your front door for a warm and inviting touch. Hanging lights on the exterior of your home isn't for everyone, but adding a festive wreath is a great way to get into the holiday cheer, your way.
To complement your door wreath, head to your locally-owned nursery or garden shop for two planters. These planters can be used all year long by swapping out the filling each season. For Christmas, a mix of birch logs, pine cones, berries, and evergreen is a perfect blend for winter.
If you want to add an extra special Christmas touch, put a festive bow around each planter. The best part, the planters will bring you joy all winter long until Spring shows its pretty face!
If you have a spacious front door patio, you could also add glass lanterns with LED wick candles and layer rugs, and a doormat to create a warm and inviting cozy feel to your entryway.
What is your favorite part of decorating for the holidays? We hope these tips and tricks from interior designers in Omaha NE are helpful and inspire you!