2023 Trends in Interior Design Lincoln NE are looking fabulous and we at Interiors Joan and Associates are so excited to fill the showroom floor with new pieces that our clients will love!
Trends come and go, but good design never goes out of style.
We love trying out new trends and seeing what works and what doesn't. The best part of interior design is that there's not one size approach and every client is unique. What may speak to someone may be the polar opposite of what another person may be envisioning.
Our recommendation is to remain true to your personal style and home's personality while having a bit of fun with different trends and spins on your home decor and design.
With the new year approaching, there's no better time for a decor refers as we welcome a brand new chapter of life!
Five Trends in Interior Design Lincoln NE for 2023
Hand-Crafted Art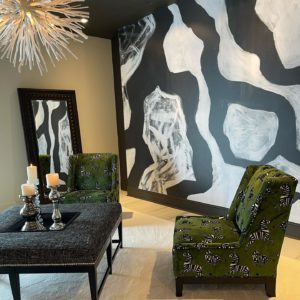 Incorporating artisan pieces, from wall art to vases, frames, and sculptures, that feel and look as if they were crafted by hand, is a great way to add dimension and flare to your newly revamped space.
Interesting Shapes
Art Deco style is back and is a breath of fresh air. While we appreciate rustic farmhouse style, we were growing a bit tired of such and needed a little glam in our lives and home. The use of embellishments and striking statements found in interesting shapes and designs is a fun touch to any neutral or traditional decor style.
You can add the Art Deco look to your current space in the form of wallpaper, lamps, coffee and end tables, and pillows. Simple additions are a great way to test the trend waters.
80's Accents
Like every good trend, they come back and the '80s are making a statement in 2023. Have some fun with accent mirrors and mirrored pieces, like vases, candle holders, and picture frames.
Also, we hate to be the bearer of bad news, but for our golden goddesses, gold is so 2022. New metallics, such as bronze, brass, nickel, and chrome, are making a major comeback. The era of gold hardware and accents is dimming as we make way for shiny pieces and new metals. We like this trend because it adds more versatility and allows for the seamless mixing and matching of your old and new pieces.
Striking Shades of Green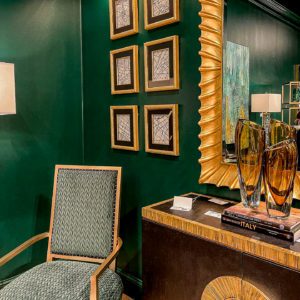 Deep emerald, serene kelly green, and forest green hues are making a statement in homes across America. Green was a top wall color and accent hue in 2022 and we are pleased to see that color trend stay to see 2023.
Moody hues create a warm and luxurious space. If green shades aren't your favorite, then we suggest dipping your toe in deep sea blues. Bold colors are out-staging neutral grays and tan tones. While we can appreciate a nice neutral canvas, the all-white trend is fading and beautiful blues and greens are in.
Outdoor Elements
Bring nature and the outdoors in with greenery. Faux and live plants and their beautiful and vibrant colors, patterns, and shapes are the perfect accents for warming up the cool pieces in your home. A well-executed interior design vision is the perfect mix of warm and cool and simple and striking.
What is the trend in interior design Lincoln NE for 2023 that you are most excited about?!